Written By Angie (Little People Person) 

Personally, I love being outdoors, especially with my children. When they have endless energy and bounce off the walls, I round up the kiddos and think, "Let's get ready to go outside." But what do you do when it rains? Now I have been told that there is no bad weather to play in, you just need the right clothes. While I often agree with this statement, I also know the opportunity-costs of rain: The wet clothes, the wet boots, the wet floors and the wet, crying baby. As my husband likes to tell me, "work smarter, not harder," I have thought up and looked into the following things to make our rainy indoor days fun and manageable. You find ways to be frugal and creative with a single-income household and limited square footage home. If, like me, you stay home with your kids and are looking to find ways to burn some energy until the sun comes out, I hope this helps you.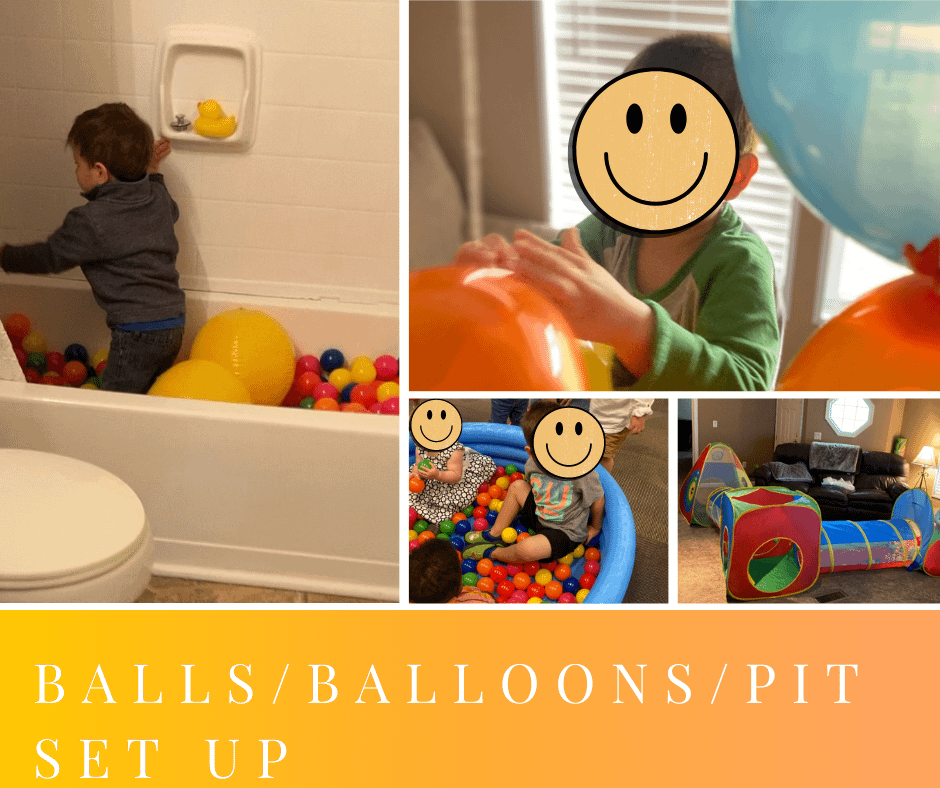 Now I have a love-hate relationship with the ball pit. I love it because it can entertain my toddler for hours. I wouldn't say I like it because of the tedious nature of collecting the small balls. I have found that filling the ball pit with balloons instead made for an easier and more fun cleanup as we could pop them after we were done. I also found that using the balls in a small, contained space was way easier than all over my living room and kitchen. Pick your poison 🙂.
My Amazon recommendations (Click on list item) :
I also have a bin of musical instruments. Now, like the ball pit, this activity is also not for the faint of heart or hearing. My husband works from home, so he can tell you that investing in a good headset is worth its weight in gold. I found my basket and most of the instruments at my local Goodwill and Value Village thrift store.
My Amazon recommendations (Click on list item) :
As a momma, when it comes to art supplies, nothing makes me happier than the word "WASHABLE." I rely heavily on this label, especially when you are indoors. Washable markers, paint, stamps, crayons, pens and washable watercolor drops… YES, please! Also, stickers, adhesive gems, and rolls of white paper work great. Leave them alone, and you will be surprised to see what they create.
My Amazon recommendations (Click on list item) :
Oh, the original play dough, plain old dough. When it rains, there is always a slight chance we are eating biscuits or cinnamon rolls that day. I must confess that, while I wish that I was a great baker, I am not. I envy those who have mastered this skill and look forward to the day that I conquer an apple pie. Alas, I currently use store-bought dough. Nonetheless, we have a blast rolling, spooning and cutting it.
My Amazon recommendations (Click on list item) :
Mama's BEWARE: Small parts included. Now, sensory bins… you either love or hate them. They come with small balls, water, sticky sand, mud, rice, beans, and leaves. If it has a texture, I am sure you can find a bin that was made. This comes with some supervision on your part until your child has a strong understanding that these play bins are not for eating. I love them; my son has been exposed to sensory bins since he was one, so now I can safely walk away knowing that he will not eat anything in the bin (or stick it up his nose). Of course, I still linger nearby to see him play by himself. They will explore the insects hidden in the mud. The construction vehicles will roam the sand. The water beads will run through sand castle tools, and the kitchen baking tools will sift through dried rice and beans. WHAT FUN!
My Amazon recommendations (Click on list item) :
Now, this is my favorite rainy day activity with my kiddos. As I mentioned, I love being outside, and I 100% prefer it to anything. However, I found that, on our rainy days, we are more willing and are kind of forced to explore our community's indoor resources. Everything is a dime or free. I know that every location is different and what I have available to me is not available to everyone; however, I hope that some of these places are near for you to check out. I cannot say this enough: we LOVE our local libraries, including the free toddler/family story times, the kid's sections with kid computers and toys, and the occasional free educational presentation, wild animals, dinosaurs, or first responder visits. Nothing beats LIBRARIES! In our area, I have also been able to drive to park and recreation centers that provide free environmental education spaces for children to enjoy. We have also been blessed to be within driving distance of local museums, which offer low-income entry and/or free days/hours for children. Another hack, if you find that you have none of these indoor visit areas available to you, is taking your child to a McDonald's/Chick-fil-A indoor play area after getting a meal. Some Chick-fil-A's even provide kid craft workshops through their marketing team. Hot fries, here I come.