Est. Reading Time: 6 minutes
Matt 14:26 – 33 (ESV) But when the disciples saw him walking on the sea, they were terrified, and said, "It is a ghost!" and they cried out in fear. But immediately Jesus spoke to them, saying, "Take heart; it is I. Do not be afraid." And Peter answered him, "Lord, if it is you, command me to come to you on the water." He said, "Come." So Peter got out of the boat and walked on the water and came to Jesus. But when he saw the wind, he was afraid, and beginning to sink he cried out, "Lord, save me." Jesus immediately reached out his hand and took hold of him, saying to him, "O you of little faith, why did you doubt?" And when they got into the boat, the wind ceased. And those in the boat worshiped him, saying, "Truly you are the Son of God."
If you are like me, and I think you are, you have been scared. Maybe you were scared for a good reason. For example, waiting for a medical test result for you or a loved one. Maybe it was pure sensory shock. Like when some jumps out from behind a wall and yells, "Boo!"
Being scared is an unpleasant experience. For most of us, we avoid the experience at all costs. For some, we pay others to create the sensation for us either through movies or haunted houses. It seems beyond odd that anyone would pay for the experience, but for some of you it reminds you that you are still alive.
But fear can be instructive. It can cause us to pause and reevaluate a situation before we proceed. In doing so, we can avoid injury or worse.
Irrational fear is destructive. If bad enough, you get a diagnosis that ends with the word 'Phobia'. Like Arachnophobia – an irrational fear of spiders.
Acrophobia is an irrational fear of heights.
Both Arachnophobia and Acrophobia are based in legitimate fears. But, in the case of Phobias, we allow the risk to be blown into a bigger risk than they actually are.
For example, falling off a 10-story building will result in very real, if not fatal, injuries. But, standing on the roof of a 10-story building is safe. Phobias makes you believe you are in danger when you are not.
Irrational fears distort your perceived reality. It makes you believe something that is not true.
Often, Phobias go undiagnosed. Or the people who hold them become skilled at masking these fears from others. But their fear is very real and has a very real and negative impact on their lives.
In Matthew 14, we find an excellent example of someone allowing their fears to distort their reality. In Matthew 14:26-33, we find the very well-known narrative of Jesus walking on the water. Matthew records that this event occurred during a very bad storm – and at night.
Unless you are the heartiest sailor, being out to sea in a storm is a scary event. There is a very real fear of being drowned in the water.
Matthew records that after the Disciples sailed into the middle of the Sea of Galilee, Jesus walk on the water to join the Disciples. This was in the Fourth watch of the night or between 3 AM and 6 AM.
Put yourself in the place of the Disciples.
You've been struggling to get your boat across the water for some time.
You are in the middle of a large body of water.
It is the wee hours of the morning.
You are in a turbulent storm.
Jesus is not with you.
On the water now appears a human figure. Logic and reason tell you this cannot be a person – people cannot walk on water, especially in a storm.
The only conclusion they can reach is they've seen a Ghost.
Maybe in a calm, rational state, they may have come to a different conclusion. But in the Phobic state, their fear prompts them to see something fearful – a ghost.
Jesus speaks to them to calm them and snap them back into their rational minds, "Be of good cheer! It is I; do not be afraid." (v. 27)
This should of be all that was required to calm the Disciples. They just heard the voice of the Lord and Master, Jesus. And He, as He does frequently with us, soothes them with His words of encouragement.
If Scripture had ended this narrative here, it would be a powerful and instructive example to us. But, seeing and hearing Jesus was not enough to these men. Not in the early morning hours, in a turbulent storm at sea, and in a Phobic mindset.
They needed more.
Peter asks for proof.
"Lord, if it is you, command me to come to you on the water." (v. 28)
I find this a very odd request for proof. It is not enough for Peter to see and hear Jesus. Peter needs/wants Jesus to produce a miracle through him before he will believe.
Now, let's look at this event from Jesus's perspective. At this point, the Disciples have:
Seen Jesus perform multiple miracles.
They just witnessed Jesus miraculously feed five thousand people from five loaves and two fishes – with left overs!
They are watching Jesus defy the laws of nature by walking on the water – in a storm!
And they already have confirmed the person they see on the water to be Jesus.
But it still is not enough.
Jesus calls Peter onto the water. And Peter walks on the water!
Jesus has now duplicated his miraculous feat through Peter. Surely, Peter and the Disciples would now believe!
Not yet.
Scripture tells us that Peter, "saw the wind was boisterous, he was afraid, and beginning to sink he cried out, 'Lord, save me!'" (v. 30)
Peter had a Phobic event. A very real fear (drowning) became irrational and he was afraid.
We learn in verse 31 that Jesus stretches out His hand to save Peter. Once in the boat, again, Jesus says to Peter, "O you of little faith, why did you doubt?"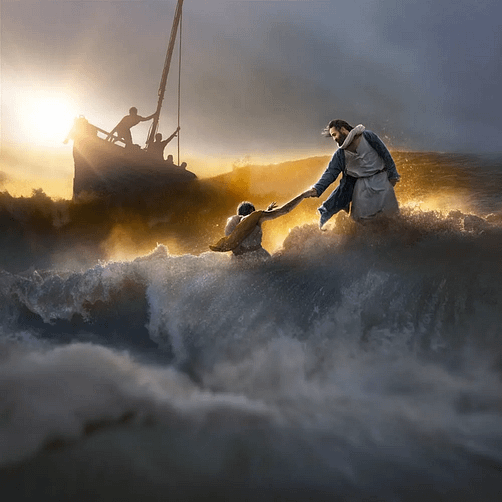 It is at this point we need to do a little self-reflecting. It is easy, and often done with this story, to attach and malign Peter for his lack of faith.
I don't believe this narrative is recorded for us to shake our heads at Peter. I believe this is recorded so we can use it as a mirror in our own lives.
If we are honest with ourselves, we have and continue to let fear, irrational fear, to negatively impact our lives.
If you are like me, fear is, this very moment, impacting your life.
Remember, Phobias are based in very real danger. For example, the fear of drowning. But, if left unchecked, they grow beyond their true size and impact and become monsters that will devour us.
Phobic fear will cripple us – especially when rational fear should motivate us. For example, a person fearful of drowning may refuse to move or allow help to be lifted off a sinking ship. They are literally frozen in fear. The rational fear should motivate us to leave the sinking ship to the relative safety of a rescue vessel.
Not only does fear impact us physically. Sadly, I am convinced that most Christians live in a hyper-state of fear. And there are many manifestations of this in the Church.
One of the many things I love about the Bible is that it captures many situations I find myself in. And because it does, it has been a tremendous resource to me.
The Israelites faced a similar situation in Joshua 1.
Their leader for many years, Moses, was now dead. They have wandered the deserts for decades. They now faced a daunting task, to supplant a superior military force in fortified cities.
Joshua knew exactly what the Israelites need to hear at that moment. Joshua addresses the fearful Israelites with, "Have I not commanded you? Be strong and courageous. Do not be frightened, and do not be dismayed, for the LORD your God is with you wherever you go." (Joshua 1:9)
Joshua's word echo the words Jesus said to the Disciples on that stormy night on the sea – "Be of good cheer! It is I; do not be afraid" (Matthew 14:27)
And what do we think God would say to the Christians today? Would His words be any different than Joshua's to the Israelites or Jesus' to the Disciples?
Fear comes from a place of weakness. You believe your situation to be greater than you.
John writes, "Little children, you are from God and have overcome them, for he who is in you is greater than he who is in the world." (1st John 4:4)
There is nothing we face that is greater than God! And as His children, He is in us!
It is high time to put our fear back into perspective – to free ourselves from the crippling Phobias in our lives.
Let's take the word of Paul to the Saints at Corinth to heart – "Be watchful, stand firm in the faith, act like men, be strong." (1st Corinthians 16:13)
Editor's Note: As I read this article and selected the images included with it, I was reminded of the below video by Rend Collective, featuring a song called "My Lighthouse". I hope you can find the same encouragement that I did as you listen to the song and reflect on the scriptures provided in Rob's message.
---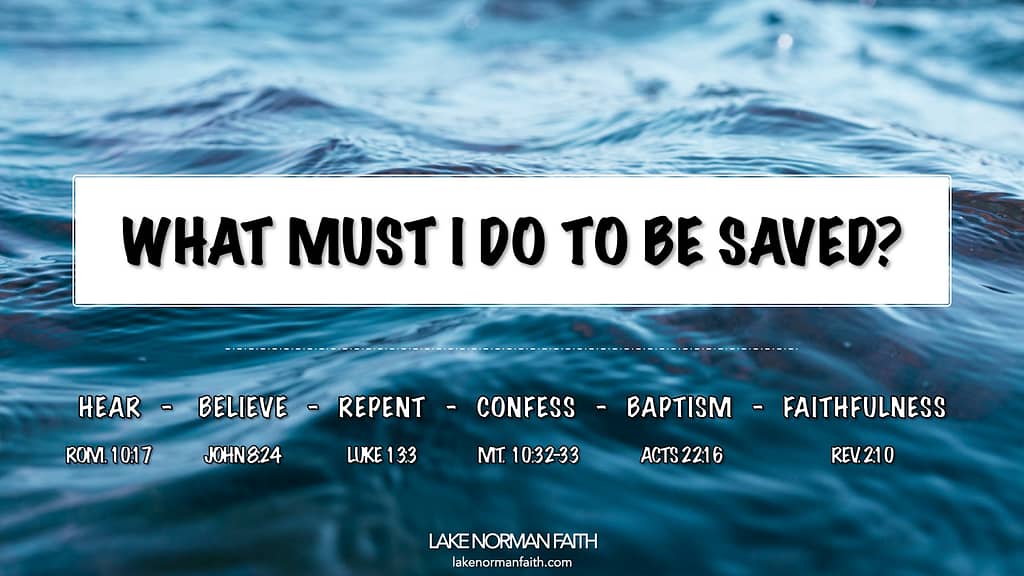 Interested in a Bible study or have questions? Please visit our Contact Us page.