"Whatever you do, work heartily, as for the Lord and not for men, knowing that from the Lord you will receive the inheritance as your reward. You are serving the Lord Christ." Colossians 3:23-24
Mom. Nurse. Cook. Maid. Librarian. Teacher. And, if you have a toddler: Jungle Gym. If you clicked here, then it must mean that you are looking for homeschooling ideas. Now, I may be biased due to the fact that I've had hard labor/infant stages, but I LOVE the toddler/pre-school age. You almost feel bad calling it SCHOOL. The colors, the paint, the crafts and all the fun are like reliving your childhood days of playing school.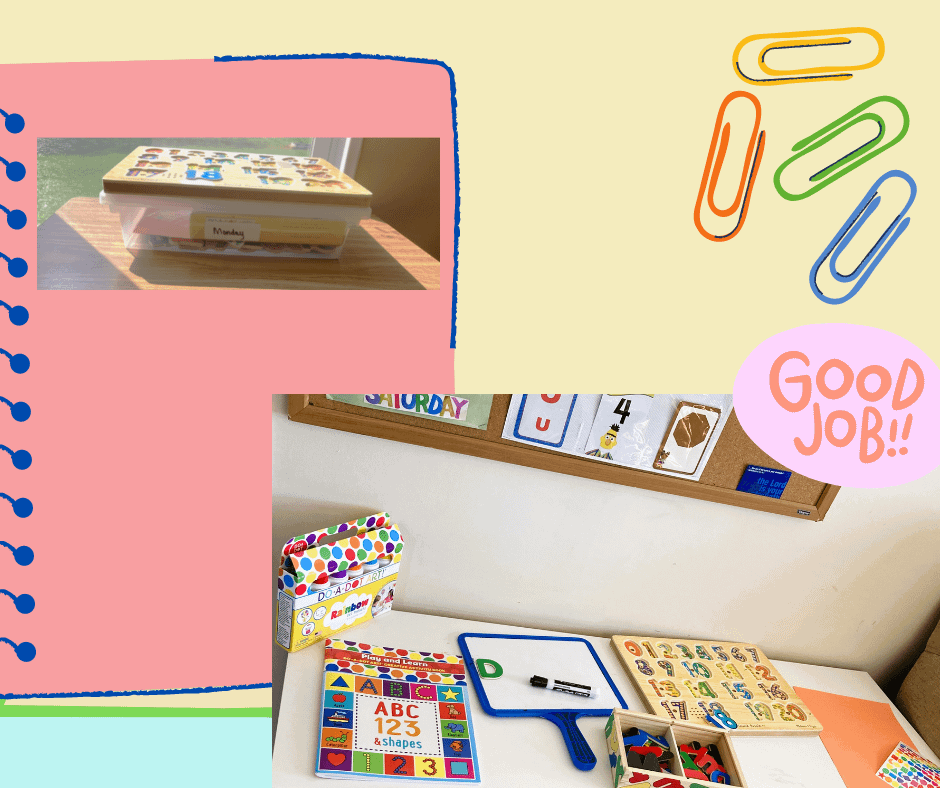 One can spend many hours and lots of money building the SCHOOL room of your dreams. However, the reality is we all have limited time, space and money to do what we can with what we've been given. IT CAN STILL BE GREAT!!! I can honestly say that most of what I use is from the dollar store/ thrift store/ Amazon or is free in order to fit a very limited budget. I also have a 6-month-old baby, so I've learned that the easiest and quickest way to help my toddler to understand things and learn is better for all of us.
To help, I divided all of our preschool activities into four bins: Monday, Tuesday, Wednesday and Thursday. Each bin holds activities that help reiterate the letter, number and shape that we highlight for that week. Sometimes we spend more than one week going over the same three. You simply have to gauge what your child needs. All-in-all, I give myself and my child 20-30 minutes of structured "school". We go over the days of the weeks, the months, the weather, the seasons, a Bible verse, and the big THREE: our chosen Number, Letter and Shape. We then work through our activity bin of the day.
This is what is in my MONDAY preschool bin for my 3-year-old. Links to these items on Amazon are also included.
---
---
---
I have found that having all of these things organized into one daily bin has made it so easy for me to be consistent with "school". We also read a lot: we've found that a Highlights magazine subscription, classic children's books, and Bible stories help with explaining concepts, and developing their love of learning and storytelling.
I hope this helps you with your toddler homeschool journey!