Est. Reading Time: 7 minutes
Have you ever seen a beautiful sunset?
There is a striking beauty in that part of God's creation, isn't there?
Well, there is an old Church hymn that is based on someone witnessing a beautiful sunset during the summer of 1936. You might have heard it before, it's called 'Beyond the Sunset'.
This song was composed by a husband and wife. In truth, a group of friends contributed to its creation, but Virgil Brock wrote the words and his musically talented wife, Blanche Brock, added the music.
This talented couple is attributed to having written more than 500 gospel songs together until Blanche's passing in 1958. However, 'Beyond the Sunset' is undoubtedly their most famous composition, with the words and music even being engraved in stone as a tribute to the couple at the Warsaw-Winona Lake cemetery in Indiana.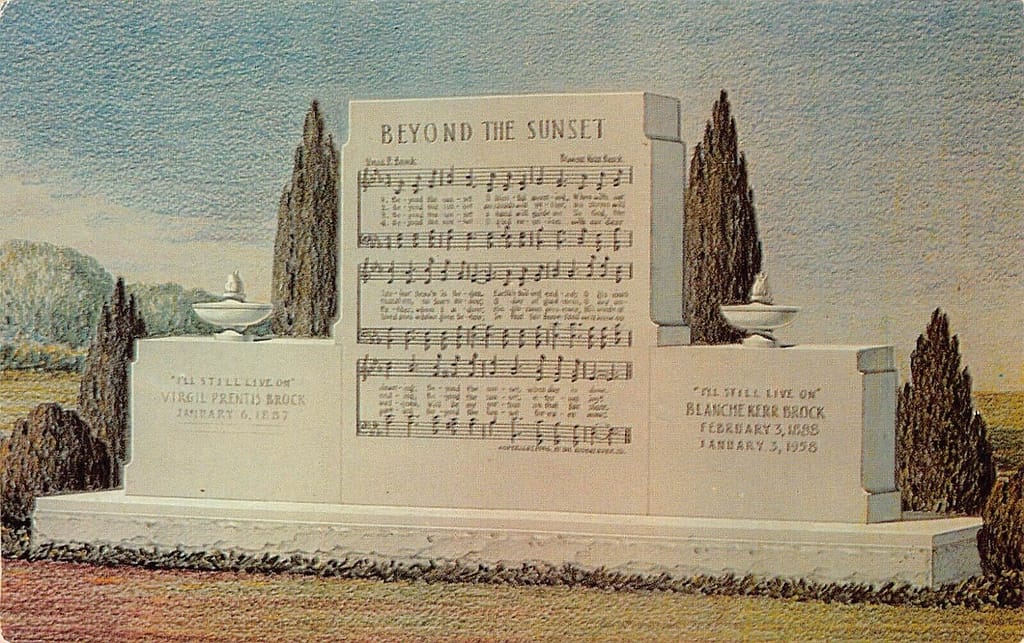 The inspiration behind this piece came during the summer of 1936 when the Brocks were visiting with friends at a school of music at Winona Lake, Indiana.
One evening, the guests witnessed a spectacular sunset that captivated their attention and admiration. Some of the guests described the lake water as "ablaze with the glory of God."
During dinner that same evening, Virgil's cousin, Horace Burr, although blind since birth, spoke about the sunset with great excitement. He claimed that he had never seen such a beautiful sunset in his life.
One guest naturally questioned how he could have possibly seen the sunset, since he was blind.
Burr responded, "I see through other people's eyes, and I think I often see more – I see beyond the sunset."
Another guest then raised the question of what was beyond all of this (beyond life).
Virgil Brock was then struck by an idea. Burr had never seen the glory of an earthly sunset – yet was blessed as the guests tried to describe it. Likewise, Christians have never seen what is beyond – yet God, in His love and promise, has told us in the Bible of the glory awaiting us "beyond the sunset."
Virgil and Blanche were so moved by this thought that they wrote the song that evening with the guests present. In fact, they finished it before dinner was over.
Each verse of this song carries inspiration from specific people and details from that evening during the summer of 1936. I hope that you can be as encouraged as I have been by these words.
I often fondly sing this song to my baby girl. I have special songs for each of my children, and I enjoy witnessing the joy that it brings her. I hope that you can experience the same joy.
Verse 1:
Beyond the sunset, O blissful morning, When with our Savior heav'n is begun; Earth's toiling ended, O glorious dawning, Beyond the sunset, when day is done.
Life is hard.
Living life faithfully is harder.
After all, Matthew 7:13-14 says that narrow is the way to eternal life and it's few who find it. But faithful followers of Christ have an eternal rest to look forward to. They can truly cherish and echo the closing remarks of John the Revelator in Revelation 22:20: "Amen. Come, Lord Jesus!"
What in your life is hard?
What burdens do you bear?
How weary are you in this temporary, earthly tent?
Jesus says in Matthew 11:28-29, "28 Come to me, all who labor and are heavy laden, and I will give you rest. 29 Take my yoke upon you, and learn from me, for I am gentle and lowly in heart, and you will find rest for your souls."
As I personally reflect on this, I often feel like the tax collector from the parable in Luke 18:9-14. In Jesus' telling, he's the sinner who beats his breast to heaven, anguishing in his sinful, fleshly state, and who longs for the lasting reprieve that God alone offers.
In a simpler way, the first verse reminds me of how I felt after a long day of hard labor, working double shifts and getting beat up along the way. Of feeling utterly exhausted as I finally laid down for rest in the early hours of the next day.
So then, I can only imagine what true Heavenly rest will be like. 'O glorious dawning!', as the verse says.
Again, as John wrote: "Come, Lord Jesus!"
Verse 2:
Beyond the sunset, no clouds will gather, No storms will threaten, no fears annoy; O day of gladness, O day unending, Beyond the sunset, eternal joy!
Speaking of storms, let's look at Matthew 8:23-27, "23 And when he [Jesus] got into the boat, his disciples followed him. 24 And behold, there arose a great storm on the sea, so that the boat was being swamped by the waves; but he was asleep. 25 And they went and woke him, saying, 'Save us, Lord; we are perishing.' 26 And he said to them, 'Why are you afraid, O you of little faith?' Then he rose and rebuked the winds and the sea, and there was a great calm. 27 And the men marveled, saying, 'What sort of man is this, that even winds and sea obey him?'"
Jesus commanded the very storm and it suddenly ceased. As the verse says, there was a great calm (see previous article by Rob Moorey). So, for the faithful who make it to that glorious dawning, I imagine that the same Jesus who calmed the storms will also suddenly cease all fears, all sadness, and all the pains of life.
I further imagine it like when I'd wake up as a small child. It will be as sudden as waking up with pure innocence in my heart again, loving the new day without any cares or concern.
Only it will be better!
Verse 3:
Beyond the sunset, a hand will guide me to God, the Father, whom I adore; His glorious presence, His words of welcome, Will be my portion on that fair shore.
Every time I think about standing before God, I am (initially) terrified. I feel the shame of everything wrong that I've done.
But remember the parable of the prodigal son in Luke 15? How did God greet his child? He ran to him. He embraced him. He kissed him. He is not a cold and distant father.
The song's third verse here says that there will be words of welcome. Maybe words like, "Well done, good and faithful servant… enter into the joy of your master" (Matthew 25:23).
Our reunion with God will be magnificent and eternal.
Revelations 21:1-7 says, "1Then I saw a new heaven and a new earth, for the first heaven and the first earth had passed away, and the sea was no more. 2And I saw the holy city, new Jerusalem, coming down out of heaven from God, prepared as a bride adorned for her husband. 3And I heard a loud voice from the throne saying, 'Behold, the dwelling place of God is with man. He will dwell with them, and they will be his people, and God himself will be with them as their God. 4He will wipe away every tear from their eyes, and death shall be no more, neither shall there be mourning, nor crying, nor pain anymore, for the former things have passed away.' 5And he who was seated on the throne said, 'Behold, I am making all things new.' Also he said, 'Write this down, for these words are trustworthy and true.' 6And he said to me, 'It is done! I am the Alpha and the Omega, the beginning and the end. To the thirsty I will give from the spring of the water of life without payment. 7The one who conquers will have this heritage, and I will be his God and he will be my son.'"
What a promise – again, come Lord Jesus!
Verse 4:
Beyond the sunset, O glad reunion, With our dear loved ones who've gone before; In that fair homeland we'll know no parting; Beyond the sunset forever more.
As we often sing in another song, "…when we all get to Heaven, God's Family." The Church of Christ is a family unlike any other that doesn't ever go away. Our worship and our fellowship here on earth is just a precursor of better things to come.
And if we have loved ones in this church family who pass on, we know that we will all be together again.
Now, I like family reunions, although they just get so rare the older you get.
…But what a (heavenly) reunion it will be.
My hope for the reader of this article is that, whenever you see a sunset – whether at the beach, while on a drive, or while looking out your window – that you'll think of these words and be reminded of what's 'Beyond the Sunset'. That you'll be reminded of what Christians are looking forward to.
As it says in Philippians 3:14, "14I press on toward the goal for the prize of the upward call of God in Christ Jesus."
Death is a scary thing for a lot of people, and our world is constantly looking for ways to prolong human life. But death itself doesn't have to be a scary or sorrowful thing. Like a sunset, it only foreshadows that a new dawn is coming.
But, in order to experience a glorious dawning, you have to be a part of the Lord's Church. Are you a part of this everlasting family? And, if so, are you living faithfully and true?
See the below media on "What Must I Do To Be Saved?" so that you can join our Christian family for when we travel 'Beyond the Sunset' and on to our eternal reward together in Heaven.
---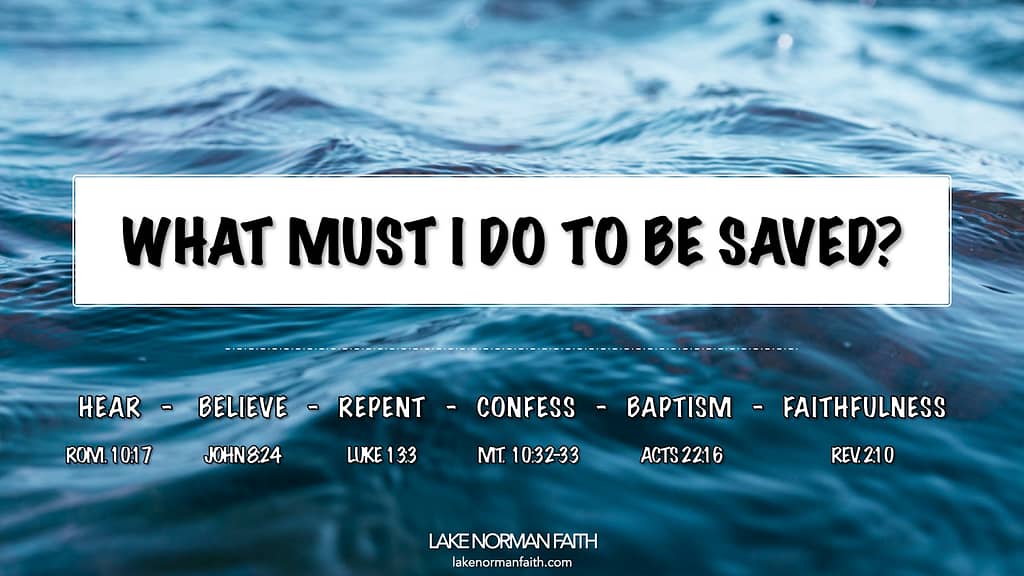 Interested in a Bible study or have questions? Please visit our Contact Us page.