Est. Reading Time: 4 minutes
2 Samuel 24:24 – But the king said to Araunah, "No, but I will buy it from you for a price. I will not offer burnt offerings to the LORD my God that cost me nothing.' So David bought the threshing floor and the oxen for fifty shekels of silver.
During this time of the year, Christendom's focus shifts towards the greatest sacrifice ever made in the history of mankind – the death, burial, and resurrection of Jesus Christ.
Certainly, innocent people have been put to death for crimes they have not committed. While tragic, and a great injustice, this part of Jesus' sacrifice is not unique.
Jesus is also not the only martyr for His faith. Many throughout history have given their physical lives for the advancement of their Faith.
History is also filled with many examples of individuals sacrificing themselves to save others. Whether it is a parent dying to save their child, or a military serviceman dying to save their brothers-at-arms, or a civil servant dying to protect someone in their community – there are many examples of someone dying to save someone else.
What makes Jesus' sacrifice so extraordinary is that it is God in the flesh who dies to save mankind.
God, who is Holy, requires us to be Holy (1 Peter 1:6). But God desires us to choose to be Holy (1 Peter 2:9). He gives us the choice to make, and we make that choice multiple times every day (John 3:36; 1 John 1:7).
Knowing that with our freewill, we would make the wrong choices, He knew he needed to plan for our redemption and salvation (Ephesians 1:4).
God could have chosen to destroy all mankind – and it would have been just for Him to do so.
But God loves us (John 3:16; Romans 5:8). He wants us to spend eternity with Him in Heaven (1 Timothy 2:4).
But with choice comes consequence.
So, God put on flesh (John 1:14) in order that He could serve us and be the ultimate payment for our bad choices (Matthew 20:28).
He knew death was required for sin (Romans 6:23). And He did not want that death to be ours.
He knew the only way to save us from ourselves was to die in our place.
Jesus knew what He needed to do. He also had a choice to make. He could have chosen to avoid suffering, pain, death, and humiliation – but it would have meant ours.
Because of that, Jesus gave His life for ours (John 10:18).
He made the ultimate sacrifice because he loved us (John 15:13)!
While I think it is important for us to remember what Jesus has done for us, I don't think we go far enough.
Yes, anytime someone gives a gift, they want the recipient to acknowledge the gift.
But Jesus' death is meant to generate more than gratitude in us. It is meant to create Disciples of Jesus – people who emulate and imitate Jesus. And that includes our willingness to make sacrifices for Him and for others.
To be like Jesus means that we also must be willing to lay down our lives for others. We must be willing to make sacrifices for others (Matthew 5:38-48).
Yes, be appreciative of what Jesus has done for you. Celebrate his act of love and sacrifice.
But go beyond gratitude. Emulate Jesus in your life. Be willing to sacrifice for the benefit of others. We must be willing to lay down your life for others.
If we are honest, Christians often confuse inconvenienced with sacrifice. We tell ourselves that we live sacrificially when really, we were just inconvenienced.
I like the story of David found in 2 Samuel 24. David had sinned, and the people of Israel were suffering from David's sin. David pleaded that God would show the people mercy. God tells David to go to the threshing floor of Araunah and make a sacrifice to God. Araunah sees the King trying to buy the threshing floor, Araunah offers it to David for free. David's response that is captured in 2 Sam 24:24 is one of the reasons why the Bible says that David had a heart like God's. David states, "No, but I will buy it from you for a price. I will not offer burnt offerings to the LORD my God that cost me nothing."
This is sacrificial living. It should cost you something.
As the world reflects on Jesus' sacrifice, let's challenge ourselves to be like Jesus.
If our walk with Christ is not costing us anything – is it really a sacrifice?
What we believe is sacrificial, is it really an inconvenience?
We are grateful that Jesus did not come to be inconvenienced. Instead, He came to sacrifice Himself for us!
---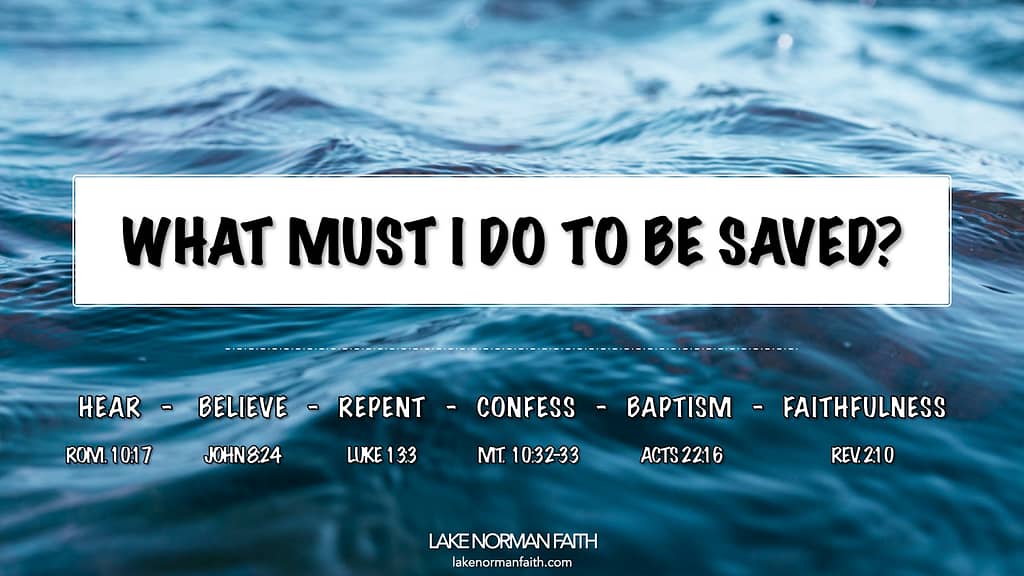 Interested in a Bible study or have questions? Please visit our Contact Us page.